Palo Santo Fruit Essential Oil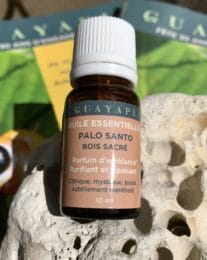 Palo Santo, literally the "Holy Wood", is a wood whose essence has been used for centuries by a wide variety of peoples: Jivaros, Quechua or Inca attribute shamanic virtues to its fragrance.
The essential oil of the fruit of Palo Santo, rather than wood, makes it possible to obtain a product more citric, more minty, especially its process of obtaining avoids the destruction of forests and maintains the local ecosystems.
Its characteristics make it an important plant for human beings as well as for biodiversity.
Palo Santo Fruit Essential Oil is a mystical essence with great fragrances. On diffuser, it will unfold a purifying and soothing scent. Its notes are citric, woody, mystical and slightly mentholated.
Origin : Ecuador's Amazon
Production method: Wild harvest, traditional process.